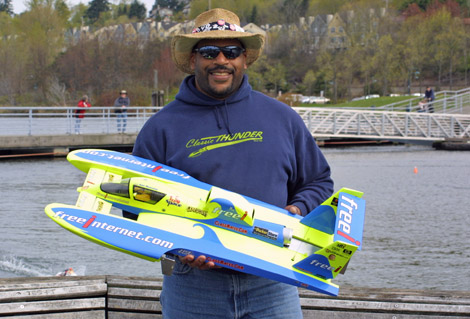 Hydroscale Creations is an extension of the hobby that I love, R/C 1:10 Scale Electric Hydroplane building and racing. I've been an Unlimited hydroplane fan about as long as I can remember and have become an even bigger fan of the sport's history. I guess growing up in Seattle on the shores of Lake Washington made it inevitable. My fastination with the boats led to my joining Classic Thunder. In 1993 they were the first group to try 1:10 Scale Hydro racing. Of course, I was there taking pictures and asking all of the questions I could think of. By '94, I had built my first boat and have been doing it ever since. My good friend Pete Schille got me started and showed me the ropes along with the other pioneers of the club. In the beginning we built most of our cowls out of balsa wood and fillers for each model. Later, some of the guys discovered how to vacuum form parts out of plastic. This made things so much easier that more of us learned how to do it for ourselves. I owe a lot to guys like Pete Schille and Jeff Howard who really showed me what was possible and how creative you can get with plastic parts. Many of the parts I make come from their designs. I've added several of my own over the years simply because I wanted them for my own builds and couldn't find them anywhere. More and more modelers started asking me where they could find parts for their boats too, so I decided to make them available to others who need them. 1:10 Scale has spread and grown in popularity. I want to encourage that by making it easier for boat builders to find good, affordable parts for their builds. I have always loved seeing new boats that people have shown me and gotten great ideas from fellow hobbyists. I want to continue to do that. If you're a model builder, it's likely that we have that in common. For me, that's what this hobby is all about. I started HydroScale Creations with that in mind.
Sincerely,
Mitch Dillard
Hydroscale Creations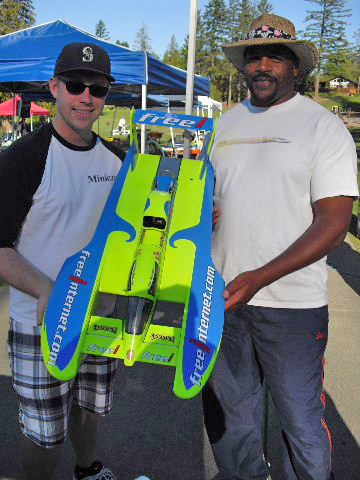 I built this model for 2009 as a tribute to the late Roger Newton, who passed away in 2008. Roger was crew chief for Ken Muscatel when the Freei campaigned in 2000. He will be remembered as the man arguably most responsible for the popularity of scale remote control boat racing in the world. It was only fitting that the boat end up in the hands of its current owner, Roger's son, David Newton.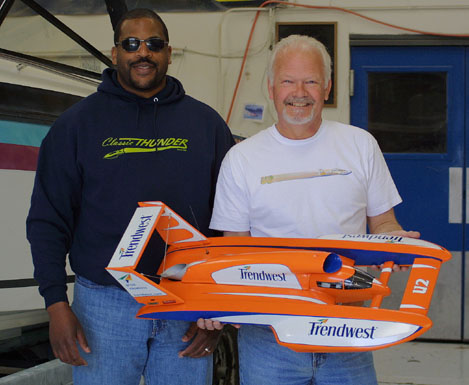 U-2 Owner and Crew Chief Jim Harvey and I
with my model of his 2003 Trendwest.